US begins to reach out to Iran, but slowly and cautiously
Iran's nuclear program prompts Israel to signal possible action in 2010. More sanctions could become an option.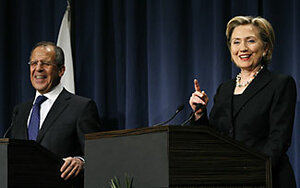 Denis Balibouse/Reuters
The Obama administration is settling on an eyes-wide-open approach to Iran that will test the potential for a significant breakthrough in relations. The approach will start with small diplomatic steps, yet be mindful that the window is fast closing on peacefully halting Iran's progress toward a nuclear weapon.
The tougher international sanctions that have also been contemplated are unlikely to get crucial support from Russia and China before the fall at best – and only after the United States is seen as making good on President Obama's campaign pledge to engage with America's adversaries, including Tehran.
At the same time, however, a harder Israeli government is coming on board and sending signals that it will not wait much into 2010 before taking military action against Iranian nuclear sites if diplomacy bears no fruit. So the US is now moving to test the diplomatic channels with Tehran, even before Iran's national elections in June.
The Americans "will engage the Iranians, they will do it before the [Iranian] elections, and they will do it by first sending signals of the will of the US to engage," says a senior European official who spoke on condition of anonymity. He had hours of talks Monday with State Department officials focused on Iran policy.
Last week, Secretary of State Hillary Rodham Clinton announced plans for an international conference on Afghanistan, and she said that, as a neighboring country, Iran was likely to be invited. That announcement raised speculation that American and Iranian officials could make initial direct contacts in the conference's margins.
---