On European trip, rock-star Obama faces skeptical allies
While he is popular, American policies are not. He will be hard-pressed to
win concessions on his plans for the economy or Afghanistan.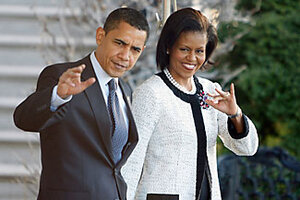 Ron Edmonds/AP
The new American president's debut on the world stage, beginning Tuesday in London in advance of the Group of 20 meeting, is sure to have its share of "Hello!" magazine moments and glamour. He will, after all, meet with Queen Elizabeth II, an established member of the thin upper crust of global personalities and an international rock star in her own right.
But President Obama may be speaking sotto voce and out of the spotlight while in the company of presidents and prime ministers. That's because he is expected to articulate positions and prescriptions that are out of step with leaders from Western Europe, China, Russia, India, and beyond – on issues ranging from the global economic crisis to the war in Afghanistan.
Indeed, Mr. Obama may well find himself in the inverse position from where George W. Bush stood by the end of his White House run. Whereas Mr. Bush enjoyed greater cooperation and like-mindedness with many key foreign leaders, though he remained unpopular with the international public, Obama is expected to encounter an adoring public but a deep skepticism – even resistance – among heads of state.
---