Who will stop the pirates?
American merchant sailors showed their mettle in retaking a hijacked ship, but piracy off Somalia continues to vex the international community.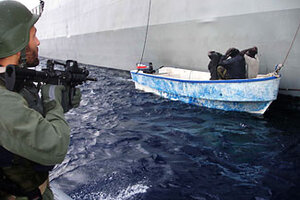 Greek Navy/AP/HO
The American merchant sailors who fought pirates to retake their US-flagged ship, which had been seized Wednesday in waters off Somalia, showed a stiff resolve against maritime piracy that the world community so far has not.
Merchant vessels and the global economy will continue to be at risk from ransom-seeking pirates until the maritime powers adopt – and enforce – a zero-tolerance policy to stop the hijackings, say maritime security experts.
With the ship's captain reported to be in pirates' hands, the unfinished drama casts a bright spotlight on increasingly insecure shipping lanes. The hijacking of the Maersk Alabama cargo ship – which apparently involved the first hostage-taking of American merchant sailors in the pirate-infested waters off Somalia – at first appeared to end hours after the ordeal began, with the 20-member crew overpowering and detaining one pirate and others fleeing to the sea.
Then it was learned that the foiled pirates had kidnapped the ship's captain and were holding him hostage in a lifeboat. An American warship and a small fleet of other vessels had been dispatched to the scene, US officials reported Tuesday afternoon.
The Hollywood-worthy episode – the ship's crew used antipiracy training to retake the ship, then reported home on events via cellphone – puts renewed focus on Somalia, a lawless state run by Islamist extremists that provides safe harbor to gangs of pirates.
But it also is likely to cause a closer look world actions thus far to combat the problem. With ship seizures off Somalia tripling between 2007 and 2008, a consortium of international maritime powers, including the US, has increased patrols in the shipping lanes of the Indian Ocean. The patrols and stepped-up training of navies whose waters are seeing pirate activity rise are the result of measures the United Nations adopted in December. Three months into the international anti-piracy campaign, as many as 17 nations are participating in increased patrols, and more are expected to join, according to the Associated Press.
---