Obama eases Cuba travel, but embargo remains
His reforms make it easier for Cuban-Americans to visit and financially support family on the island. But some Latin leaders say the changes don't go far enough.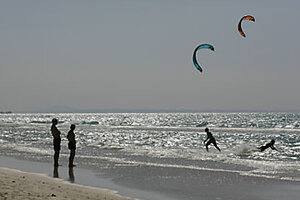 Enrique De La Osa/Reuters
The Obama administration announced Monday that it will loosen some restrictions on Americans' contact and dealings with Cuba – a first step in what is seen as a gradual revision of US policy toward the communist island country.
The forthcoming changes include a repeal of limits on how many times Cuban-Americans can visit family in their Caribbean homeland and how much money they can send to relatives there. The reforms are timed to send President Obama off on his first trip to Latin America later this week armed with evidence of a new direction in US policy towards the region.
But administration officials say the measures will stop well short of a full repeal of the nearly 50-year-old trade embargo of Cuba. That in-between position has both Latin leaders and some members of Congress suggesting that the planned measures are inadequate half-steps. They are calling for a full US-Cuba dialogue.
Mr. Obama's refusal to fully engage with Cuba "is a double standard," says Ricardo Lagos, a former president of Chile and an eminence grise of Latin diplomacy. Under the new administration, the US is "willing to talk to countries that were in the 'axis of evil,' " he notes, "[so] it is difficult to understand why [the US] is not going to talk to Cuba."
---