Could Iraq violence affect US withdrawal plan?
The recent spate of attacks have come as US troops are preparing to pull out of urban areas.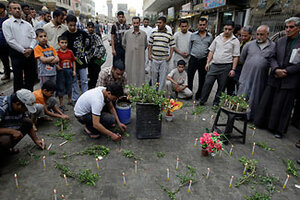 Thaier al-Sudani/REUTERS
A raft of sensational attacks in Iraq is raising new questions about President Obama's plans to draw down troops in Iraq so he can send more to Afghanistan.
On Friday, two female suicide bombers blew themselves up near the gates of a Shiite Muslim shrine in Baghdad, killing 60 people. The attack followed two suicide bombs Thursday that killed more than 80 people.
The wave of violence in recent weeks, coming as US troops have begun preparing for withdrawal, threatens to bring Iraq back to the front burner, after months of increased security coupled with Obama's focus on Afghanistan had pushed it back.
Gen. David Petraeus, formerly the top US commander in Iraq and who now oversees both the wars there and in Afghanistan, warned lawmakers Friday that despite "substantial progress" in Iraq there remain lingering concerns. Al Qaeda in Iraq, as well as other groups, continue to pose a threat, he said.
"Numerous challenges still confront its leaders and its people," General Petraeus told a House panel. He said an Al Qaeda network that provides foreign fighters from Tunisia through Syria to Iraq has been "reactivated." Four of the most recent suicides were carried out by Tunisians, he said.
---