Ahead of summit, Obama and Netanyahu press different agendas
When the leaders meet Monday, the US will push for progress toward a Palestinian state, while Israel will ask for a harder line on Iran.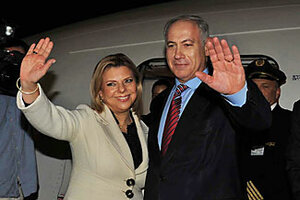 Moshe Milner/GPO/AP
Israel's new conservative prime minister, Benjamin Netanyahu, comes to the White House Monday set on convincing President Obama that dealing with Iran must come before efforts to resolve the Israeli-Palestinian conflict.
For his part, Mr. Obama wants the Israeli leader to see how progress on the Palestinian front can take the wind out of Tehran's sails and set Israel's neighborhood on a more stable course.
For both leaders, it's going to be a tough sell.
"Clearly what Netanyahu wants to know is: What will the US do if diplomacy with Iran fails? And what Obama wants to know is, where is Netanyahu going on the Palestinian issue?" says David Makovsky, director of the Project on the Middle East Peace Process at the Washington Institute for Near East Policy. "Each thinks the other is not committed to his priority, but each wants to know that the other at some point can say, 'Yes I can.'"
Mr. Netanyahu arrives in Washington having refused to endorse a two-state solution, in which a new Palestine would exist alongside Israel. He instead has called for focusing on economic and security advances for the Palestinian territories.
---