Obama presses Netanyahu for Israeli-Palestinian progress
At the White House meeting Monday, the Israeli leader emphasized the threat from Iran.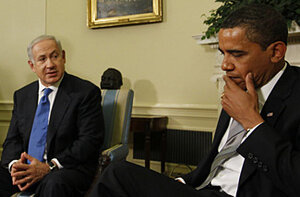 Charles Dharapak/AP
President Obama and Israeli Prime Minister Benjamin Netanyahu attempted to show decreasing daylight between their priorities for Middle East security in their first face-to-face meeting Monday since taking office. But each man stuck to his guns in terms of where Iran fits in his vision.
At the White House, Mr. Obama stressed peace between Israel and Arabs, including the Palestinians, as a way to deal with Iran as a destabilizing force. Mr. Netanyahu, meanwhile, emphasized the need to focus on Iran as an existential threat to Israel. Yet even if differences remained in their ordering of priorities, the two leaders went out of their way to agree publicly that the two "tracks" of Iran and Israeli-Palestinian negotiations can be pursued at the same time.
Obama reiterated his interest in seeking a diplomatic solution to Iran's nuclear ambitions, warning against "artificial" deadlines but adding that any talks could not be "open-ended." He also said that progress would have to be registered by the end of the year for the diplomatic track to deserve more time.
For his part, Netanyahu said he was ready to "resume immediately" negotiations with the Palestinians, though he continued to shun the words "two-state solution," which refers to a new Palestine existing next to Israel. In fact, he threw in for good measure that Palestinians must recognize Israel as a Jewish state.
---