What Obama will try to accomplish in Cairo
His speech should aim to launch a new dialogue between two estranged communities of the world, some regional experts say.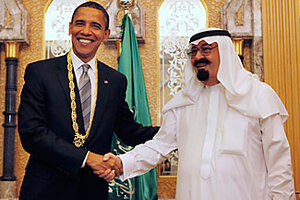 Gerald Herbert/AP
As President Obama prepares to deliver his long-awaited speech to the Muslim world Thursday from  Cairo University, he is being pulled in multiple directions and called on to address scores of issues in his talk.
Yet one question hovers over everything: Is rhetoric enough, or will Mr. Obama have to offer substantial policy initiatives to further the speech's stated goal of improving America's poor standing in the Muslim world?
"Rhetoric is not enough, and Barack Obama recognizes it won't be enough," says Fawaz Gerges, a scholar of Middle Eastern studies at Sarah Lawrence College in Bronxville, N.Y. "At this point, most Arabs and Muslims are looking to President Obama to translate his rhetoric into concrete policies," Mr. Gerges says: "settlement of the Israeli-Palestinian conflict, withdrawal of American forces from Iraq, a policy that demonstrates America's respect of Islam, and diverting the US from Muslim dictators and rulers who have held back their own people while bleeding their governments dry."
In the days leading up to Obama's speech, much of the focus has been on what the president should and shouldn't say. Speak directly to the Muslim people, some Muslims and experts in the region say. Don't let the authoritarian governments that rule many in the Islamic world – including the Egyptians who will host the president – off the hook, they add.
---