Jailed journalists complicate Obama's approach to N. Korea
The administration wants to keep the journalists' plight separate from any discussion of the North's rogue nuclear program. But that will be difficult.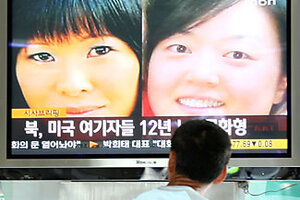 Ahn Young-joon/AP
Monday's conviction of two American journalists in a North Korean court and their sentencing to 12 years of hard labor for unspecified "grave crimes" will complicate President Obama's pursuit of a tougher policy against the rogue nation.
The Obama administration has taken a gradually more aggressive stance toward North Korea since Pyongyang detonated a nuclear device on May 25. Given that Mr. Obama had previously been calling for a dialogue, "the only logical response for the administration is to shift to ... at least show North Korea that there are things the US and the world can do to hurt them," says Chaibong Hahm, a regional expert at the RAND Corp. in Santa Monica, Calif.
This was reflected over the weekend in statements that were several notches more severe than previous pronouncements from Washington.
Obama said Saturday: "We are not intending to continue a policy of rewarding provocation."
Secretary of State Hillary Clinton added Sunday on ABC's "This Week" that "significant and effective action against the North Koreans [is needed] now" to stop the nation from solidifying its nuclear gains and "spark[ing] an arms race in Northeast Asia."
---