US general: Prepare for terrorist tactics from North Korea
The commander of US forces in South Korea says the North would likely use roadside bombs and other insurgent strategies in a ground war.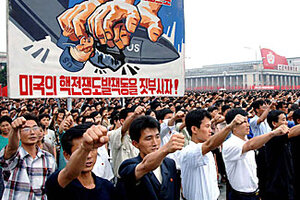 Korean Central News Agency/AP
American forces may have to focus the counterinsurgency skills they have gained in Iraq and Afghanistan on the threat posed by North Korea.
The American general leading US forces in South Korea told the South Korean military this week that "our enemies" are beefing up their guerilla warfare capabilities and would likely use improvised explosive devices and similar tactics if a ground war broke out.
Gen. Walter "Skip" Sharp said that means the South Korean military should prepare by conducting as much realistic training as possible – likely with the aid of the US.
"I believe we will face IEDs and insurgent forces in addition to large conventional attacks," said General Sharp in remarks there Tuesday. "We must immediately begin preparing both ROK [Republic of Korea] and US forces to improve our capabilities in these areas." Sharp didn't mention the "thinking enemy" by name until the end of his prepared remarks. "North Korea is watching and I am convinced that discussing and demonstrating the strength, capabilities, and leadership of the ROK army is the best deterrence."
Few experts envision an all-out ground war on the Korean peninsula. Yet they believe that countries taking on the US or its allies, if they are at a clear military disadvantage, are likely to begin to adapt the kinds of insurgent tactics effective in Afghanistan and Iraq.
---