Obama: Bloodshed in Iran affects prospects for US dialogue
He dismisses Ahmadinejad's accusation that US meddled in Iranian politics and must apologize.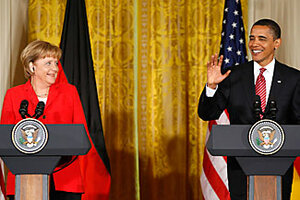 Jason Reed/Reuters
President Obama continued dialing up his rhetoric on Iran as the regime there pursued its repression of election protests, on Friday saying for the first time that Tehran's violence against the people will affect prospects for US engagement with Iran.
"There is no doubt that any direct dialogue or diplomacy with Iran is going to be affected by the events of the last several weeks," Mr. Obama said in a midday White House press appearance with German Chancellor Angela Merkel.
He added, "We don't yet know how any potential dialogue will have been affected until we see what has happened inside of Iran."
His comments came after Iranian President Mahmoud Ahmadinejad demanded an apology from Obama for what he said was interference in Iran's internal affairs. Mr. Ahmadinejad was proclaimed the victor in the June 12 election that thousands of protesters have concluded was rigged.
Obama's sideline strategy
The Iranian president's comments drawing Obama into the election fray is exactly the kind of excuse-making – blaming turmoil on the meddling of the Great Satan – that Obama had said he'd hoped to avoid. Obama has faced criticism from Republicans and some Democrats as he labored for nearly two weeks to keep a low profile on the elections in Iran.
But as bloodshed mounted in Tehran – and then as he stood in the White House East Room with Chancellor Merkel, the first Western leader to demand a full recount in Iran's presidential election – Obama acknowledged he could not stay on the sidelines. He did, however, reemphasize that the US had consciously shunned the limelight on the elections.
---