US, Russia deal would cut nukes to post-cold-war lows
Obama and Russian President Medvedev on Monday outlined reductions in strategic warheads and launch vehicles.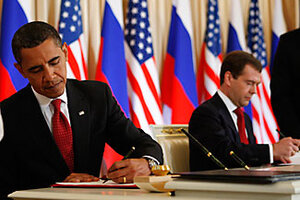 Jim Young/Reuters
President Obama and Russian President Dmitry Medvedev committed Monday to reaching a new nuclear-arms reduction agreement that would set both strategic warheads and warhead delivery vehicles, such as missiles, at post-cold-war lows.
Yet despite the upbeat tone at the first of two days of summit talks in Moscow, the two leaders offered few specifics on how the looming stumbling blocks to a new era of cooperation will be overcome. Those issues include American plans for a missile-defense system in Eastern Europe and US-supported expansion of NATO to Ukraine and Georgia.
The two presidents issued a "joint understanding" that commits the two countries to reducing strategic warheads to a range of 1,500 to 1,675 – down from the current ceiling of 2,200 – and to a maximum of 1,600 launch vehicles. The goal is to reach an agreement in time to replace the Strategic Arms Reduction Treaty (START), which expires on Dec. 5.
Although the Obama-Medvedev statement speaks only of reaching an agreement "at the earliest possible date," Mr. Obama affirmed at a joint appearance of the two leaders Monday that the treaty "will be completed this year."
---