Clinton's high-wire act on Honduras
US backs Costa Rica's Arias to mediate the crisis, wary of being seen as interfering in the region – as it has in the past.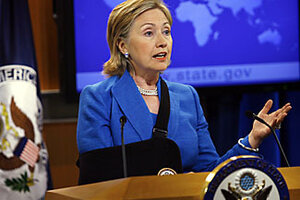 Jose Luis Magana/AP
The Obama administration waded deeper into the political crisis in Honduras Tuesday, anxious to see the hemisphere's latest conflict resolved – but wary of appearing like the hegemonic power of old that imposed its will on smaller neighbors.
Secretary of State Hillary Rodham Clinton met with ousted Honduran President Miguel Zelaya in Washington Tuesday, signaling unequivocal US support for Mr. Zelaya's return to office.
But Mrs. Clinton also announced that Costa Rican President Oscar Arias, winner of the Nobel Peace Prize in 1987 for his role in brokering an end to Central America's civil wars, will serve as international mediator for resolving the Honduran crisis. Both Zelaya and interim president Roberto Micheletti accept Arias's mediation role, Clinton said.
The naming of Mr. Arias brings a respected and seemingly neutral force into the picture while keeping the US profile low, some regional analysts say. But it also raises questions about what mandate he will have to resolve the 10-day-old standoff.
---