G-8 issues September deadline for Iran
Obama warns Tehran to accept nuclear talks soon. Iran's crackdown on protesters may be hardening US policy.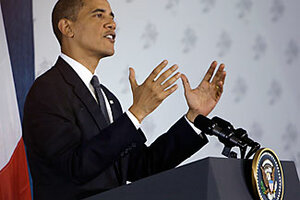 Haraz N. Ghanbari
President Obama had more harsh words for Iran Friday in the wake of its contested election, warning the government in Tehran that the world is unlikely to wait beyond September for signs of cooperation on its nuclear program.
The president's comments came as street protests returned to Tehran on Thursday. And the apparently new, shorter deadline for the Iranian government to respond to the international community's offer of talks follows a flurry of speculation over Israel's plans for military strikes against Iranian nuclear facilities.
At a press briefing wrapping up the G-8 summit in Italy, Mr. Obama said the G-8 leaders were moved to issue a statement by the Iranian government's "appalling" actions that followed the disputed June 12 presidential election.
The Group of Eight wealthy countries condemned the crackdown on protesters contesting President Mahmoud Ahmadinejad's reelection, and also called on the government to ease restrictions on news media.
But it's Obama's announcement of a September deadline that most clearly suggests a hardening of the US approach to Tehran.
---