OAS chief adamant that ousted Honduran president return
The head of the regional group is 'optimistic' about the next round of talks, set for Saturday.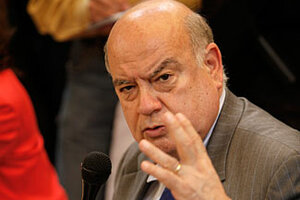 Eduardo Verdugo/AP
The head of the Organization of American States on Thursday dismissed the latest offer from Honduras's interim president for resolving the Central American country's constitutional crisis.
But he said he remains "optimistic" about the next round of internationally brokered talks set for Saturday.
OAS Secretary General José Miguel Insulza insisted at a meeting attended here by ambassadors and specialists in the Latin American region that any resolution of the Honduran crisis must include a return to power of President Manuel Zelaya. Mr. Zelaya was forcibly exiled by the Honduran Army nearly three weeks ago as part of an inter-institutional power struggle pitting Zelaya against the national Congress and the Supreme Court.
The OAS leader's non-negotiable position appeared to nip in the bud a proposal from Honduras's interim president, Roberto Micheletti, who on Wednesday offered to step down to pave the way to a political resolution – but only if a deal also prevented Zelaya's return to the presidency.
Calling Mr. Micheletti's rule "a de facto dictatorship," Mr. Insulza said it was a "hopeful" sign that Micheletti is offering to step down, but added that it cannot be "at the price of taking down President Zelaya with him. That cannot happen."
The meeting Saturday will be the third attempt at talks brokered by Costa Rican President Oscar Arias. President Arias, a Nobel Peace Prize laureate for his role in settling Central America's cold-war-era civil wars, was called in by Secretary of State Hillary Rodham Clinton and the OAS when Mr. Insulza's initial attempts at resolving the crisis fell flat.
---