As Iraq war ends, why isn't the US in on more business deals?
Countries that opposed the American intervention now top the list of those probing economic opportunities in post-Hussein Iraq.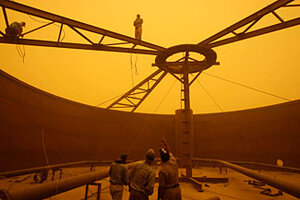 Atef Hassan/REUTERS/FILE
Whatever happened to the old truism about war – to the victor go the spoils?
In the case of Iraq, the United States is not reaping the benefits of its privileged position in the country after six years of war, Iraqi officials say – and they want that to change.
Iraq is signing billions of dollars in contracts with foreign firms to help rebuild the country, while private companies are forging partnerships with Iraqi businesses to provide the country with a lengthy backlog of needed goods.
But Americans are largely absent from the bidding and the dealmaking, according to Iraqi officials.
"Despite an improvement in security and an increase in business visitors [to Iraq], American businessmen are lagging behind, and we don't like that," says Samir Shakir Sumaida'ie, Iraq's ambassador to Washington. "We hope that our American friends will be at the forefront."
In fact, Ambassador Sumaida'ie notes with a wry smile that some of the countries that most emphatically opposed an American intervention are now at the top of the list of countries probing the business opportunities in post-Saddam-Hussein Iraq.
"It's ironic that the very people who were against the US intervention in those early days are now the biggest presence," says Sumaida'ie, noting that Germany, France, China, and Japan are among the most active countries.
---