Will nukes creep into Bill Clinton's North Korea agenda?
The former president was in Pyongyang Tuesday seeking the release of two American journalists. But talks could go beyond that.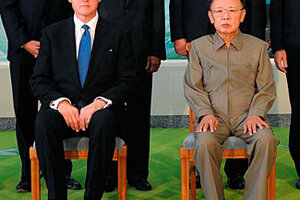 KCNA/REUTERS
A door could open to progress on issues including North Korea's nuclear program if both the US and Pyongyang gain something from former President Clinton's surprise visit Tuesday, some longtime analysts of diplomacy with Pyongyang say.
North Korea's regime will be seeking heightened prestige, in particular at home, and the US will want the release of two jailed US journalists.
"This is not a zero-sum game, and if both sides get what they want, then it's a win-win that everyone should be able to live with," says Jim Walsh, a North Korea expert at the Massachusetts Institute of Technology's security studies program.
"Beyond that, the possibility is always there that a satisfied Kim Jong-il" – the North's reclusive and ailing dictator – "could change with the wave of a hand the trajectory of US-North Korea relations."
But with Mr. Clinton still on the ground in Pyongyang, the reaction to the visit in Washington and Pyongyang was a study in contrasts.
North Korea, which has sought for years to elevate its standing by achieving direct talks with the US over its rogue nuclear program, took the rare step of ushering the former president into a brief meeting with the ailing Mr. Kim. Official North Korean news photos showed a beaming Kim greeting a solemn Clinton, while the official news dispatch said the two leaders engaged in a "wide-ranging exchange of views."
---