Bill Clinton's 'rock star status' delivers in North Korea
The former president succeeded in securing the release of two American journalists partly because he brought Pyongyang the prestige it craves.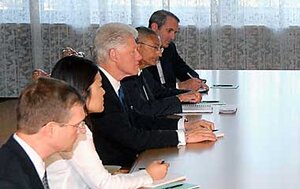 KCNA/Reuters
Bill Clinton's successful mission in securing the freedom of two American journalists jailed by North Korea – a testament to the clout the former president still has abroad – could represent something of a two-edged sword for President Obama.
The release of the two journalists removes a thorn from the increasingly irritated relations between the US and North Korea. More broadly, it also constitutes a glimmer of hope for Mr. Obama's faith in dialogue as a foreign policy tool, some diplomatic analysts say.
But the high-profile talks between the US and North Korea – carried out between a former US president and Pyongyang's dictator, Kim Jong-il – will also raise the discomfort level of US allies Japan and South Korea, both of which worry that a Washington-Pyongyang détente could come at their expense.
Moreover, Mr. Clinton's success could increase pressure for a similar high-profile diplomatic mission to Tehran to secure the release of three Americans detained by Iranian officials after wandering into Iranian territory from Iraq.
---