Direct talks with N. Korea ahead? Not likely.
Secretary of State Clinton reaffirms commitment to six-party talks. One-on-one dialogue with Kim Jong-il's regime would validate the rogue nation, analysts say.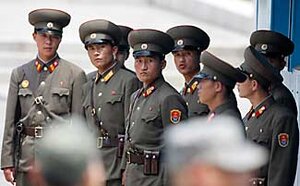 Jo Yong-Hak/Reuters
The day after her husband succeeded in a high-profile mercy mission to Pyongyang, Secretary of State Hillary Rodham Clinton sought to cut short speculation that the US is moving closer to direct talks with North Korea about its nuclear-weapons program.
"Perhaps [the North Koreans] will now be willing to start talking to us within the context of the six-party talks about the international desire to see them denuclearize," Secretary Clinton said Wednesday on NBC's "Today" show.
Her comments came just hours after former President Bill Clinton left North Korea – after having dined with the reclusive leader Kim Jong-il and secured the release of two jailed American journalists. She added, however, that she is not "counting on" his success leading to any breakthrough with North Korea.
One reason some Korea analysts believe the North is probably no closer to achieving the one-one relations it wants with the US: The North itself has made US engagement more difficult, by declaring itself a nuclear power and blatantly pursuing both nuclear and ballistic missile progress this year.
---