Is Obama's 'let's talk' diplomacy failing?
The US has scored no big wins under his policy of talking with the enemy. Doubts that it can are rising.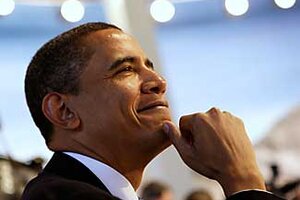 Haraz N. Ghanbari/AP
President Obama may be willing to talk to America's adversaries abroad, but six months into his tenure hardly anyone is returning his call – a situation that is prompting restiveness in Congress and a round of "we told you so's" by diplomatic hawks.
In one sign of impatience with Mr. Obama's approach, the US Senate in late July unanimously urged the president to seek "crippling economic sanctions" on Iran if it does not move soon to abandon its nuclear ambitions.
Whether the issue is key security threats, as with Iran and North Korea, or lower-profile matters, as with Cuba or Burma (Myanmar), Obama's critics and even some backers of the "talk to the enemy" approach are starting to speak of the policy's limits.
"I'm one who thinks the president is right to pursue this path, but he needs a major success pretty soon to make his case," says Charles Kupchan, a foreign-policy scholar at the Council on Foreign Relations here. "None of these cases is low-hanging fruit, and he doesn't have to score across the board. But without a major success we're going to see the Bush-McCain refrain coming back: that engagement is appeasement."
---