A stop-by-stop account of Clinton's Africa trip
During her seven-country tour, Clinton highlighted the continent's successes, stressed the work yet to be done, and strengthened US trading alliances.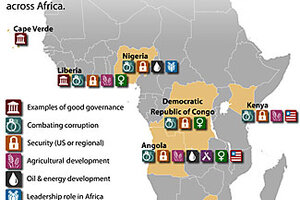 Jake Turcotte/Tracey Samuelson/Staff
Secretary of State Hillary Rodham Clinton wraps up her whirlwind tour of Africa Friday, after logging 21,200 miles in 11 days. From massive oil-producing Nigeria to the tiny island-nation of Cape Verde, Secretary Clinton's trip highlighted the many sides of the diverse continent. But her seven-country tour was as much about securing US interests in resource-heavy lands as it was about supporting African development. Following are summaries of her visit in each country:
Kenya
A primary goal of Clinton's 11-day trip was to reiterate the message of transparent and corruption-free governance that President Obama urged during his trip to Ghana last month. This reiteration began at the first stop, Kenya.
Indeed, the birthplace of Mr. Obama's father was not spared criticism for its shortcomings. "The absence of strong and democratic institutions has permitted ongoing corruption, impunity, politically motivated violence, human rights abuses, lack of respect for the rule of law," Clinton said at a news conference after meeting with President Mwai Kibaki and Prime Minister Raila Odinga.
---