Obama, Mubarak seek fresh start to strained US-Egypt ties
The two met at the White House Tuesday. Obama sees Egypt as potentially a helpful player in moving the Middle East peace process forward.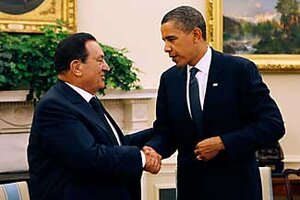 Pablo Martinez Monsivais/ AP
If nothing else, President Obama's meeting Tuesday with his Egyptian counterpart, Hosni Mubarak, may symbolize the fact that the White House has hit the reset button on US-Egyptian relations.
Mr. Mubarak has stayed away from Washington in recent years, making little secret of his irritation with what Egyptians considered to be the Bush administration's pro-Israeli policies. Nor did Mubarak appreciate the way Bush officials publicly prodded Egypt on human rights.
But Mr. Obama chose Cairo as the place from which to make an address to the Muslim world earlier this summer. And he hasn't lectured Mubarak about the need for more democracy and justice in Egypitan society. At least, not yet.
"The Egyptians are very happy to have Obama in charge," says Denis Sullivan, director of the Middle East Center for Peace, Culture, and Development at Northeastern University in Boston. "This visit gets things back to a more normal relationship between two important players in the Middle East."
---