Washington ups the pressure on Honduras by cutting aid
The US won't call the military ouster of the country's president a "coup." But it says elections scheduled for November would be illegitimate.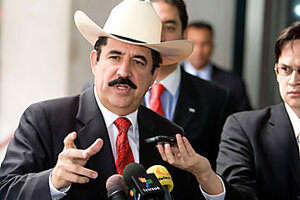 Larry Downing / Reuters
The United States toughened its stance towards the de facto government in Honduras Thursday, cutting millions of dollars in aid and declaring that it would consider presidential elections scheduled for November illegitimate under current circumstances.
But the US stopped short of officially declaring as a "coup" the military action in the Honduran capital of Tegucigalpa on June 28 that resulted in the forced exile of President Manuel Zelaya.
The US finding that the circumstances leading to Zelaya's ouster were too "complicated" to allow for legally declaring the action a coup leaves the US at odds with Latin America at a time when President Obama had pledged to bring the region closer together.
The complicated aid cut announced Thursday – which could amount to $30 million – may send a strong message to the poor country largely reliant on US assistance. But some Latin America analysts say the warning on the upcoming elections could ultimately have greater impact in pressuring the interim government in Tegucigalpa to resolve the country's two-month-old crisis.
---