Karzai unlikely to claim Afghan election victory soon
Amid likely vote fraud, some experts now call for a coalition government or a return to the tribal system to clear the impasse.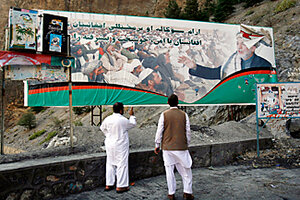 Rahmat Gul / AP
In case there was any doubt before, the accusations of fraud piling up around Afghanistan's presidential election mean that Hamid Karzai won't be declared victorious in his reelection bid any time soon.
At the very least, a national electoral complaints commission investigating fraudulent voting will take weeks to determine how much of Mr. Karzai's officially declared 54.6 percent of the vote will be tossed out.
At the other extreme, a potential need for a runoff vote could end up stretching Afghanistan's political turmoil into next spring – presenting President Obama and other NATO leaders with an unsettled and deteriorating climate just as crucial policy decisions are under review.
"This is the worst of all possible worlds for us," says Marvin Weinbaum, a former State Department intelligence specialist in Asian affairs now at the Middle East Institute in Washington. "We face a possible constitutional crisis that, if not resolved, becomes a disaster for us, and a partner [Karzai] acting in ways that in effect raise questions as to whether he should be in there or not."
With prospects growing for a period of months without a legitimate national leader, Afghan and foreign officials – Americans chief among them – are debating the options for salvaging a bad situation that could get much worse.
---