Can Obama lead the world toward zero nukes?
Obama will chair a UN Security Council summit on nuclear nonproliferation Thursday – the first US president to preside over the body.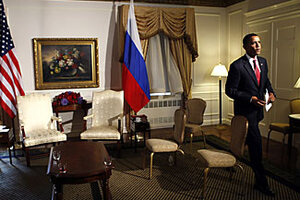 Kevin Lamarque/Reuters
President Obama will lead a United Nations Security Council summit on nuclear nonproliferation and disarmament Thursday, the first time an American president has chaired a meeting of the Council and an indication of the importance he places on the global nuclear challenge.
But progress on the dual objectives of nonproliferation and disarmament won't be easy, security experts warn. Even holding a summit on the issue is fraught with risk for Mr. Obama.
Already, some critics say the summit's scope – the prospect of new nuclear powers, the dangers of aging arsenals, and the possibility of "loose" nuclear materials falling into extremists' hands – is too large. It should focus on nonproliferation alone, they say, given the imminent threats posed by the nuclear programs of Iran and North Korea.
Others see disarmament as mainly a US-Russia issue, and still others worry that pressure to disarm will be disproportionately directed at the United States.
It's also possible for one leader to hijack the summit by dominating the stage or attacking the nuclear status quo, with its haves and have-nots.
---