Obama, at UN, wins stricter stance on nuclear weapons
New Security Council resolution doesn't name Iran or North Korea. But France's Sarkozy singles them out, suggesting more must be done to address nuclear violators.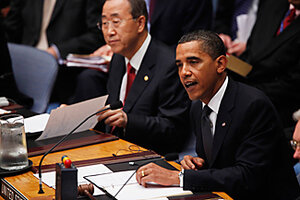 Charles Dharapak/AP
With Iran and North Korea on everyone's mind, the United Nations Security Council has unanimously approved an American-sponsored resolution aimed at reinvigorating nonproliferation and disarmament efforts.
In an extraordinary session led by President Obama Thursday – the first time an American president has chaired a meeting of the world's premier security body – the 15-member council acted to strengthen the global nuclear nonproliferation regime and to secure the spread of "loose" nuclear materials.
Mr. Obama said the resolution reinforces "the goal of a world without nuclear weapons," yet one where safe and affordable civilian nuclear energy is shared by all countries.
No violators of the world's nuclear development regulations are mentioned by name in the resolution, but leaders said the threats posed by developments in Iran and North Korea provide a backdrop for why stronger international regulation is necessary.
Citing previous council actions on Iran and North Korea, Obama said Thursday's resolution "reaffirms the Security Council has both the authority and the responsibility to ... respond as necessary" when violators threaten international peace and security. "We must demonstrate that international law is not an empty promise, and that treaties will be enforced."
---