Iran missile tests: What they tell the West
Iran tested two mid-range missiles that can reach Israel and southeastern Europe Monday. The test will help the country perfect its ballistic technology.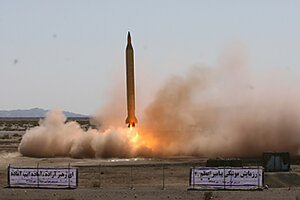 Ali Shaigan/ Fars News Agency/ AP
Iran's test Monday of its Shahab-3 and Sajil missiles has given the country a fresh opportunity to fine-tune missiles that can reach Israel, US forces in the Middle East, and even the southeastern part of Europe.
Iran has successfully tested these missiles in the past. But ballistic missile systems are difficult to perfect, and every firing teaches something to their developers.
"Anytime you successfully test a system it shows you have just a little bit more mastery over it," says Greg Thielmann, a senior fellow at the Arms Control Association.
Iran conducted three rounds of missile tests, beginning last Sunday. The drills come at a time when tensions between Iran and the US and its allies have been heightened by disclosures of a secret Iranian uranium enrichment facility.
On Monday, Tehran capped the tests with successful launches of upgraded versions of the Shahab-3 and Sajil, according to Iranian state television. Both missiles can fly around 1,200 miles.
"Iranian missiles are able to target any place that threatens Iran," said Abdollah Araqi, a top Revolutionary Guard commander, according to Iran's semiofficial Fars news agency.
---
Follow Stories Like This
Get the Monitor stories you care about delivered to your inbox.