Obama says Iran must take 'concrete steps' on nuclear issues
The talks in Geneva were historic, but some experts say Iran gained prestige without having to concede much.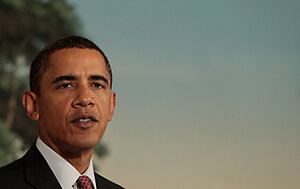 Pablo Martinez Monsivais / AP
The results of a full day of talks between Iran and major world powers including the United States were enough for Washington – and Tehran – to envision a second round before the end of the month. Still, the Obama administration remains cautious about the negotiations' ultimate prospects.
"This was a constructive beginning, but it must be followed by constructive action by the Iranian government," President Obama said in a brief White House statement.
Reiterating the policy of engagement with adversaries that he ushered into the White House, Mr. Obama added that "we are not interested in talking for the sake of talking," and he said "Iran must take concrete steps to show its [nuclear] program is peaceful."
Simply for Iran to accept the nuclear issue on the talks' agenda is an important victory for the US and its allies, some analysts say. But they add that other factors suggest Iran will also be pleased with the first day's results.
What did Iran get?
"These were historic negotiations. I'm happy about that," says David Albright, president of the Institute for Science and International Security (ISIS) in Washington. "But in a funny way, I'd say Round 1 went more for [Iranian President Mahmoud] Ahmadinejad than for Obama."
Why? Iran got high-profile international talks without much mention of a suspension of its uranium-enrichment program, and the inspections Iran agreed to for a recently disclosed nuclear site won't happen right away.
"This is really just the beginning of the beginning," Mr. Albright says.
---