Qaddafi vexes US in forcing UN to take up Gaza report
UN Security Council will hear Qaddafi's demand that it take action on the Gaza report, which alleges Israeli crimes during last winter's war.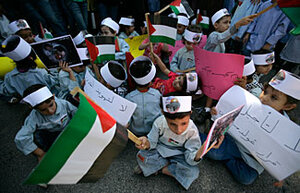 Grace Kassab/AP
Libya called a special closed-door session of the United Nations Security Council Wednesday afternoon to demand action on a UN report that criticizes Israel for committing "war crimes" during its December-January offensive into Gaza.
By bringing the report to the Security Council – a body Libyan leader Muammar Qaddafi just last month said was more accurately called the "terror council" – Libya sets up a clash with the United States. He also creates a golden opportunity for Libya to raise its diplomatic star in the developing world, and for Colonel Qaddafi to refurbish his image with the Arab world.
"Libya will only be on the Security Council through December, so this was an opportunity [Libya and Qaddafi] would be loath to miss," says Melissa Labonte, an expert on Libya at Fordham University in New York. "If the P-5 [the council's five permanent members] say, 'We aren't talking about this,' it allows Qaddafi to say, 'This is what I meant by a terror council.' But if they do take it up," she adds, "what a coup for Qaddafi."
---