D.C. Decoder: What do photos of Iran nuclear site tell US?
Intelligence analysts scrutinize the images for clues to help them determine whether a building in the desert is potentially something sinister.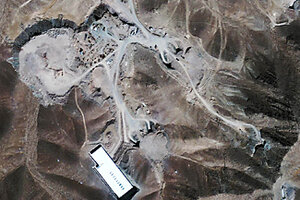 GeoEye Satellite/AP
During the latter years of the cold war, Decoder knew an intelligence analyst who described his work as "shedology." He spent all day looking at spy satellite photos of the buildings on Soviet military bases and calculating what kinds of – and how many – weapons those sheds could hold.
Today, spy agencies all over the world are engaging in an advanced kind of shedology as they examine overhead images of Iran's alleged nuclear facilities. But really, how can they conclude anything from pictures taken with a camera orbiting hundreds of miles overhead?
Photos made public so far don't exactly scream "uranium enrichment plant." They show something that looks like a warehouse – and lots of sand.
So what do real analysts look for?
The first thing is context. That building may resemble a Wal-Mart, but it is being constructed on a known Iranian military facility. Shadows indicate that it is being buried. That's expensive. The Iranian government must value whatever that building will hold.
"They cut a large section of rock out of the side of a mountain to do this facility," says Tim Brown, a senior fellow and satellite imagery specialist at GlobalSecurity.org.
---
Follow Stories Like This
Get the Monitor stories you care about delivered to your inbox.