Iran's nuclear disclosures: why they matter
A secret nuclear site. 'Project 110.' Offers to ship fuel abroad. Part of Iran's quest to be regional power?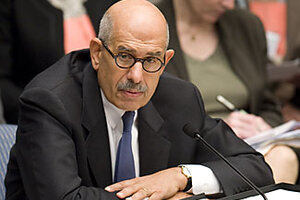 Jim Watson/AFP/Newscom
Gas centrifuges are an amazing technology. They're thin metal tubes that stand upright, about as tall as a fifth-grader, and spin on magnetic bearings that are virtually frictionless. They revolve so fast that when they're filled with uranium hexafluoride gas, the compound separates into isotopes of different atomic weights, with the heavier isotope pushed to the outside by centrifugal force.
They're hard to get running right. Vibration can be a problem, so they must be tuned, a little like guitars. But once an array of centrifuges is humming along, it needs little maintenance. They are a great way to enrich uranium to the point it can be used in a nuclear reactor – or a nuclear bomb.
All this is by way of explanation as to why recent revelations about Iran's hidden centrifuge plant at Qom are so important to the future balance of power in perhaps the most volatile region in the world.
News about Iran's nuclear program has abounded in recent weeks. There was Qom, then allegations that Iran has a secret bomb-design program called "Project 110," and Tehran's surprise offer to perhaps send low-enriched uranium abroad to be turned into reactor fuel.
These and other recent events hint that the pace and complexity of Iran's nuclear program may have increased. Now, Iranian leaders may – or may not – want the bomb. But it seems clear that Tehran wants to develop into a regional power, meaning that time could be short for the United States and its allies to engage with a rising threat in an area crucial to both global energy production and the future of Islam.
---