Stewart Nozette: The American who wanted to spy for Israel
Stewart Nozette, who appeared in court Tuesday, was a scientist for NASA and the Department of Energy with 'top secret' clearance. He was caught by FBI agents posing as members of Israel's spy agency.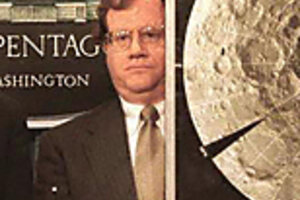 AFP/Newscom/File
Did top US space scientist Stewart Nozette spy for Israel?
The short answer is, he did not. He was caught in an undercover sting operation in which an FBI agent posed as an Israeli spy. US officials have emphasized that the espionage charges filed Monday against Mr. Nozette do not implicate Israel itself.
The longer answer has yet to come, though, and is likely more complicated. Nozette clearly thought he was spying for Israel, according to a criminal complaint filed in US District Court. And US investigators first began tracking Nozette after they picked up indications he might be working for a foreign government.
"People who spy are motivated by ideology or money. You've got to run it to ground in either case to try and find out what was going on," says William Martel, an associate professor of security studies at The Fletcher School at Tufts University.
Why would Nozette even think Israel wanted an American spy? Historically, nations spy on each other if they feel they have a reason to do so, whether they are friendly with each other or not. That goes for the US as well as its allies.
---