Is Russia playing both sides on Iran nukes?
Russia signals that it is open to tougher sanctions on Iran, which has failed to respond to an international uranium deal. But rogue scientists in Russia may be continuing to help Iran pursue a nuclear program.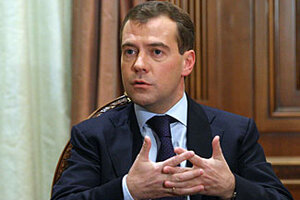 Mikhail Klimentyev/REUTERS
Iran's failure to respond to an international offer to enrich much of its uranium stockpile outside the country – for use in a Tehran medical research facility – is again raising the prospect of tougher sanctions.
Much of the focus of the sanctions debate is falling on Russia, which has blown hot and cold on additional punitive measures on Iran over its nuclear program – but which is sounding open to the idea once again. The attention is reviving lingering questions about Russian assistance – either official or unauthorized – to Iran's nuclear program and weapons research.
Russian President Dmitry Medvedev and French President Nicolas Sarkozy issued a statement Monday warning Iran that "the international community's patience is not infinite." The two leaders, in Berlin for the 20th anniversary of the fall of the Berlin Wall, said they "do not rule out" another round of sanctions aimed at the Iranian leadership and its advancing nuclear program.
Those words followed comments by President Medvedev over the weekend to German journalists, when he suggested that Russia could support additional sanctions if Iran fails to take the opportunity to cooperate with world powers in its nuclear program. Noting the offers now before the Iranian leadership, Medvedev told Germany's Der Spiegel magazine, "I wouldn't like to see all that ending in the introduction of international sanctions … but if there is no movement forward, no one is excluding such a scenario."
---