Alavi Foundation: Complaint comes at delicate time for US, Iran
The US government Thursday moved to seize the assets of the Alavi Foundation – including a New York skyscraper and four mosques. The Justice Department says the Alavi Foundation funnels money to the Iranian government for its nuclear program.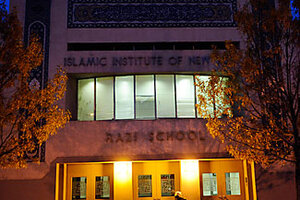 Stephen Chernin/AP
The US government moved Thursday to seize four mosques and a skyscraper owned by the Alavi Foundation, an Islamic nonprofit organization in New York that federal prosecutors say is a front for the Iranian government.
The move comes at a delicate moment for US-Iranian relations. There have been signs of some diplomatic thawing between the two nations. Recent negotiations about Iran's nuclear program – which the US fears could be used to produce nuclear weapons – resulted in a compromise deal that would allow Iran's nuclear fuel to be enriched outside the country.
Iran, however, has so far not endorsed the deal, leading to renewed calls for tougher sanctions against the Islamic Republic. Moreover, Iran has charged three American hikers arrested over the summer in Iran with espionage.
The new effort by federal prosecutors to cast an Iranian nonprofit as an arm of the Iranian government could fray relations further.
The forfeiture action is part of an investigation into the Alavi Foundation, which the government says has sent millions of dollars to Iran's Bank Melli. In March, the US Treasury Department called the bank a key fundraising arm for Iran's nuclear program.
The timing of the development probably had nothing to do with the current dynamic in US-Iranian relations, Michael Rubin, an Iranian expert at the American Enterprise Institute, told the Associated Press. "It's taken ages dealing with the nuts and bolts of the investigation. It's not the type of investigation which is part of any larger strategy."
---