Obama's Afghanistan timeline adheres to McChrystal assessment
The Afghanistan timeline President Obama outlined Tuesday calls for the 'surge' of 30,000 new troops to abate after only 18 months. That time frame is consistent with what Gen. Stanley McChrystal has called the 'decisive' period of the war.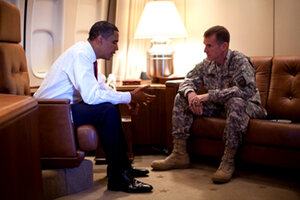 Pete Souza/AP/FILE
President Obama's decision to set a timeline on the "surge" of 30,000 new US troops into Afghanistan is consistent with a vehement assertion from Gen. Stanley McChrystal, the top US commander in Afghanistan, in his battlefield assessment.
In urgent language, McChrystal stressed the importance of time in America's Afghan venture – suggesting that the next 12 months could well determine the success or failure of the mission.
The timeline Mr. Obama announced Tuesday night appears geared to providing McChrystal with as many boots on the ground in Afghanistan as soon as is logistically possible in an effort to turn the tide of the war.
The consistency between McChrystal's assertions and Obama's words Tuesday appears to provide a military rationale for the timeline, which has been criticized as a purely political ploy made with the 2012 elections in mind.
The timeline
Obama's timeline involves deploying troops to Afghanistan as soon as next month, and then beginning to scale back the surge in July 2011. That timeline essentially gives the surge 12 months at full strength in Afghanistan at the earliest possible date.
In his assessment, leaked to the press in September, McChrystal wrote:
"We face both a short- and a long-term fight ... but I believe the short-term fight will be decisive," he wrote. "Failure to gain the initiative and reverse insurgent momentum in the near-term (next 12 months) – while Afghan security capacity matures – risks an outcome where defeating the insurgency is no longer possible."
Obama appeared to reference this idea directly Tuesday – using some of McChrystal's language almost verbatim – as he announced both the surge and the timeline.
---