Gates, other US officials clarify timeline for Afghanistan pullout
Defense Secretary Gates says deadlines, whether for the Pentagon bureaucracy or for Afghanistan leaders, are the best way to get things done.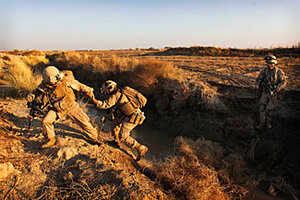 Kevin Frayer/AP
Republicans can mostly live with President Obama's new strategy for Afghanistan. But they continue to stumble over the July 2011 timeline for beginning to withdraw troops.
Since Tuesday, when Mr. Obama announced his strategy to deploy 30,000 additional troops to Afghanistan, administration officials have sought to clarify just what that timeline means. That's in response to concerns from conservative lawmakers and military experts who say that putting a deadline on the American commitment undermines the strategy. Obama says that logic is faulty.
For military experts and many conservatives, the thinking goes like this: Right now, many Afghans are trying to pick a winner – side with the Taliban and assume all the risk that entails, or side with the Americans (and the Afghan government and allied troops) and risk being abandoned come 2011.
Those fence-sitters may decide it's better to stick with the Taliban than bet on the American horse because the Americans will ultimately leave. Siding with a force that won't be around for a very long time could be dangerous.
In a counterinsurgency, protecting the population and weakening the enemy come by luring those fence-sitters to your side, thus isolating the true insurgents and weakening their power. The Taliban is fond of telling people: "The Americans have the wristwatches, but we have all the time."
"That feeds into that," says one staffer on Capitol Hill, referring to the July 2011 timeline.
---