Hillary Clinton: Yemen needs more than air strikes and diplomacy
Secretary of State Hillary Clinton said Wednesday that troubled countries like Yemen illustrate the need for development aid – as well as diplomacy and air strikes – to fulfill US security interests.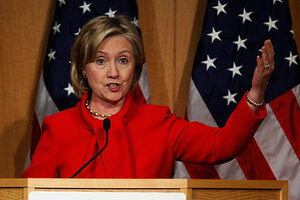 Manuel Balce Ceneta/AP
As it deals with the challenges presented by poor countries like Yemen, the United States aims to elevate development assistance to equal footing with the traditional foreign-policy tools of diplomacy and defense.
That is the message that Secretary of State Hillary Rodham Clinton offered in a speech Wednesday, in which the nation's top diplomat explained a vision of strengthening American development work to further such national interests as spreading American values and enhancing US national security.
"We cannot stop terrorism or defeat ideologies of violence and extremism when hundreds of millions of young people see no hope" for improving their lives, Secretary Clinton said. Not just by more development work, she added, but by doing it better, relying more on partnerships with benefiting countries, and leveraging government work with private-sector assistance, can progress be made in reducing the ranks of the world's poor.
Defense Secretary Gates agrees
Clinton's vision of a foreign policy where development "is as essential to solving global problems as diplomacy and defense" reflects Obama administration priorities. As Clinton noted in her speech, Secretary of Defense Robert Gates – a holdover from the Bush administration – is one of the administration's most forceful advocates of a robust civilian development effort to relieve some of the burdens that have gradually fallen on the Defense Department.
The speech, delivered at the Center for Global Development in Washington, came a day after the US embassy in Yemen reopened following a closure Sunday connected to Al Qaeda threats.
---