A big question at London conference: What to do about Yemen?
How to battle Al Qaeda-affiliated extremists in Yemen has been added to a London conference on Afghanistan. The Fort Hood shooting and Christmas Day airline bombing attempt have made Yemen's extremists a more urgent problem for the US and its antiterror allies.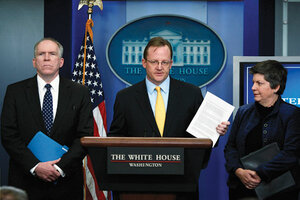 Jason Reed/Reuters/FILE
Yemen's emergence as a hotbed of Al Qaeda activity against the West was already raising questions about the scale of any US or Western response. Now, by adding Yemen to the agenda of a Jan. 28 international meeting about the Afghanistan campaign, British Prime Minister Gordon Brown has touched off a debate about how best to counter a violent strain of Islam as it surfaces in various Muslim countries.
The gathering in London of Western leaders and defense ministers is designed in part to show that the big-footprint approach to counterterrorism – as undertaken in Iraq and Afghanistan – is proving effective. Appending Yemen to the discussion, some security analysts worry, may signal that the coalition against Islamist extremism may simply continue its current approach, at great cost of blood and treasure.
What is needed instead, they say, is a true accounting of what the West has achieved thus far in its battle against radical Islam.
"We need to be honest enough to come right out and say that much of what we've done so far has been futile at best and counterproductive at worst," says Wayne White, a former State Department policy planning official and intelligence officer. "We should be rethinking much of what we're doing, but instead the response is to flip the page to Yemen and continue the knee-jerk reaction of marching into another failed or nearly failed state."
---