Haiti: US ramps up 'cash for work' to create jobs, help recovery
The United States and the United Nations are paying for thousands of new jobs to speed earthquake cleanup, put cash in people's pockets, and help the private sector recover.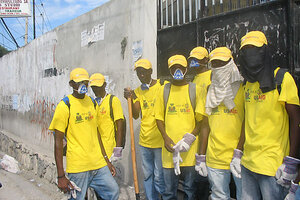 Howard LaFranchi / The Christian Science Monitor
While relief efforts involving food, water, and health services continue in Haiti, the United States is also ramping up support for "cash for work" programs designed to get Haitians involved in earthquake clean-up, put cash in pockets, and help get Haiti's private sector moving again.
The rapidly expanding jobs programs, primarily in the capital of Port-au-Prince so far, are "very important for both creating space to build latrines and also creating sites where people can settle in a more effective and sustainable way," says Rajiv Shah, administrator of USAID, the US government's principal relief and development agency. More long-term, he adds, the jobs will assist in "transitioning back to the private sector."
So far the US, working with the Haitian government, has created 5,600 jobs. But that number grows to more than 50,000 when the efforts of the United Nations Development Program (UNDP) and several private relief organizations are added in.
Paying jobs boost local markets
The number of jobs created through such programs is expected to top 100,000 by the end of the month. The "cash for work" programs are one of the best ways to feed families over the course of a natural-disaster relief effort, assistance experts say, because the programs put decision-making back with families and reactivates local markets.
---
Follow Stories Like This
Get the Monitor stories you care about delivered to your inbox.