Iran's offer on nuclear deal: genuine or diplomatic wedge?
Iranian President Mahmoud Ahmadinejad says Iran's enriched uranium could be processed outside the country, a deal Iran once rejected. The US and other countries are wary of the offer as they consider new sanctions.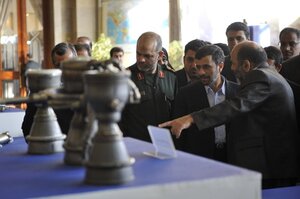 AP Photo
Just as a small head of steam was building behind a Western initiative for a new round of sanctions on Iran over its nuclear program, Iran has declared its openness to accepting an enriched-uranium deal it had already rejected.
US, French, and German officials responded with suspicion to Iran's new interest in a proposal to move its stockpile of enriched uranium outside the country for further processing. The plan, originally proposed in October by the United Nation's atomic energy watchdog agency, was formally rejected by Iran last month.
But a declaration by Iranian President Mahmoud Ahmadinejad Tuesday that Iran is ready to accept some export scheme for its uranium was received favorably by Russia, and it prompted Chinese officials to call for further negotiations with Tehran.
Trying to avoid sanctions
Iran's new interest in a uranium deal left some Iran experts speculating that Tehran, seeing movement by the international community toward a new set of sanctions focused on the growing economic assets of the country's Revolutionary Guards, is acting to head off any international consensus.
"This may be an effort to drive a wedge" in the UN Security Council, which would have to approve what would be a fourth set of international sanctions against Iran, says Daniel Brumberg, acting director of the Muslim World Initiative at the US Institute of Peace in Washington. "The Iranian regime is always playing for time, so doing that by disrupting any developing [international] consensus would be par for the course for them."
---