What about the 33 Haitian 'orphans' whose rescuers are in jail?
Often, impoverished parents or other relatives bring children to orphanages. Meanwhile, an estimated 300,000 Haitian children are believed to be enslaved or working as servants for the country's wealthy elite.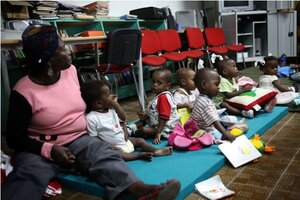 Newscom
The spotlight in the case of 10 Americans charged in Haiti with kidnapping 33 children and attempting to smuggle them out of the country in the wake of last month's devastating earthquake has fallen squarely on the accused adults.
Receiving less attention are the children themselves.
The Americans, most affiliated with a Baptist church in Idaho, were arrested a week ago for trying to take the children over the border into the Dominican Republic without proper documentation. Since then, the children, ages 2 to 12, have been living at an orphanage in Port-au-Prince run by SOS Children's Villages, an Austrian nonprofit organization.
Haitian authorities have determined that at least some of the children are not orphans at all, and representatives of the Port-au-Prince SOS Children's Village report that some of the ones old enough to understand the uproar surrounding them say they have parents. But the fact the children are at least temporarily being cared for at an orphanage points up their murky status and hints at the precarious living conditions of hundreds of thousands of Haitian children.
Thousands of Haitian children are enslaved
---