Iran nuclear program takes another step up escalation ladder
Iran announced its intentions Monday to begin processing its uranium stockpile to a higher level of enrichment. Nuclear energy experts say the country is taking yet another step toward producing a nuclear weapon, though a bomb is still years away.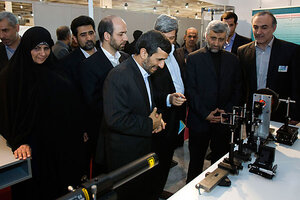 Raheb Homavandi / Reuters
Iran took another step Monday that will keep it high on the map of global nuclear trouble spots by announcing plans to begin processing its uranium stockpile to higher levels of enrichment.
Iran's intentions, announced in a letter to the International Atomic Energy Agency (IAEA), the United Nation's nuclear watchdog, sounded alarm bells among nuclear-energy experts and international leaders working to curtail Iran's nuclear program because they represent another step in the direction of producing a nuclear bomb.
"This is worrying because it's another small step up the escalation ladder," says Daryl Kimball, executive director of the Arms Control Association in Washington. "What we have to keep in perspective is that Iran is still a number of years and a lot of technical expertise away from building a nuclear weapon," he adds. "But what's disconcerting is that they keep chipping away at those limitations."
Iran said in its letter to the IAEA that it plans to begin processing at least part of its stockpile of low-enriched uranium to 20 percent enrichment, a level considered "high-enriched" uranium and on the way to the 90-percent enrichment required for a nuclear weapon.
Iran says it needs the high-enriched uranium for a research reactor in Tehran to deliver isotopes for medical uses, and blamed the international community for leaving it no alternative by failing to reach an agreement for providing the nuclear fuel it needs.
But several countries, including the United States, that thought they had a deal with Iran last October for providing the fuel say this latest step only raises additional suspicions about Iran's direction.
---