President Obama meets with the Dalai Lama: less hoopla, please
President Obama met with the Dalai Lama Thursday. But instead of in the Oval Office, the meeting took place in the Map Room -- perhaps signaling a slight downgrading of the US relationship with the exiled Tibetan spiritual leader.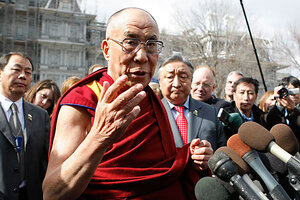 J. Scott Applewhite/AP
The most important aspect of President Obama's Thursday meeting with the Dalai Lama may be this: It took place in the Map Room.
The Map Room is perfectly fine. It's got some lovely Chippendale furniture, plus the last World War II situation map prepared for President Roosevelt. US chief executives often use it as an auxiliary parlor.
But it is not the Oval Office. By talking with the Dalai Lama in this side chamber, Obama may be downgrading the US relationship with the Tibetan spiritual leader. Just a bit.
After all, in 2007 President Bush met the Dalai Lama in public in the Capitol Rotunda, and personally presented him with the Congressional Gold Medal. That infuriated China, which considers the exiled monk a separatist leader.
For months, Beijing has been pushing the US to at least make private any Obama–Dalai Lama meet-and-greet. That has been achieved, given the Map Room setting.
---