Inspectors: Iran possibly working on nuke. What's the evidence?
It's the first time the International Atomic Energy Agency, the UN's nuclear watchdog agency, has said that Iran may be working on a warhead. The IAEA wants specific information on detonators, missile design, and uranium enrichment. So far, Iran says that allegations about a military nuclear program are 'baseless.'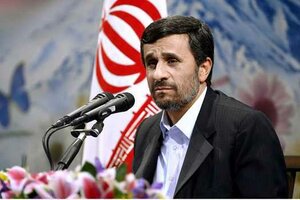 Newscom
The United Nations' nuclear inspection agency, for the first time, has publicly declared that Iran may be working on a nuclear warhead. What is its evidence?
Much of the information comes from sensitive intelligence presumably given to the International Atomic Energy Agency (IAEA) by the United States, Germany, and other nations. The IAEA itself, in a report released Thursday, says only that the evidence pertaining to possible Iranian weaponization activity is extensive, consistent in technical detail, and "collected from a variety of sources over time."
What the UN nuclear inspectors want
Specifically, the IAEA wants Iran to explain:
• Whether it has carried out activities involving high-precision detonators fired simultaneously. Some nuclear-weapon designs require such detonations before they explode.
• The extent of its work on missile-reentry body engineering. The IAEA suspects that Iran has carried out design work on a reentry vehicle interior designed for a nuclear payload.
• Whether it has developed a spherical implosion system. Spherical implosion is one of the basic kinds of nuclear-weapon designs.
---