Hillary Clinton to discuss Iran's nuclear program on Latin America trip
Secretary of State Hillary Clinton will push for new sanctions on Iran's nuclear program in Brazil as part of a five-country trip to Latin America.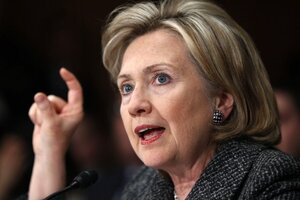 Manuel Balce Ceneta/AP
Secretary of State Hillary Rodham Clinton undertakes a "we haven't forgotten you" swing through Latin America this week that aims to bolster the Obama administration's profile in the region, with an agenda ranging from democracy and security to Iran.
Iran? One of Secretary Clinton's stops is Brazil, which currently holds a rotating seat on the United Nations Security Council, where the US is pressing for adoption of a new round of sanctions on Iran over its nuclear program.
Brazil aspires to world-power status and to a permanent seat on an expanded Security Council, but it also says it opposes international measures against Iran. So Clinton will emphasize the internationalist perspective that a nuclear Iran would destabilize a volatile region, and remind the Brazilians that (in the US view) if they want to be a world power, they need to think and act like one.
Stable democracies highlighted
More broadly, Clinton will use her five-country trip to highlight how the Western Hemisphere is almost uniformly a region of stable democracies facing common challenges, aides say. On her week-long trip, Clinton is scheduled to visit Chile, Uruguay, and Costa Rica, all of which recently elected new presidents.
---