Bluster at UN Human Rights Council, as US and Iran trade barbs
This week at the UN Human Rights Council, the US seeks to draw attention to Iran's repression of domestic opposition. Iran, meanwhile, launched a fiery attack on the West.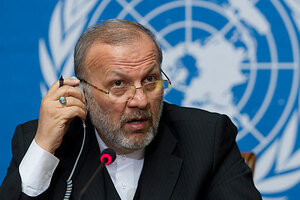 Salvatore Di Nolfi/AP
The Obama administration has sought to focus world attention on the Iranian government's repression of domestic opposition, and now it's taking that bid to the UN Human Rights Council, the United Nations' preeminent rights organization that the US joined only last year.
And Iran, which is seeking to win a seat on the council in elections set for May, is launching a fiery attack on the West. Iran claims that Western countries like the United States apply a double standard when it comes to the rights of Muslims within their borders.
The result of all the bluster in Geneva, the meeting place for the Human Rights Council is that many of the world's most glaring human rights abuses are likely to go unaddressed, critics of the organization say.
"There are real human rights abuses in the world that a council charged with defending human rights ought to be able to address. But that's not what the majority on this council have decided to use it for," says Steven Groves, an expert in international institutions at the Heritage Foundation in Washington.
"This could be the 200th time the US sat in a council session and it wouldn't matter, because it's never going to change how the council operates," Mr. Groves adds.
The 47-member council, by its structure, is dominated by countries most interested in using the cachet of the council to deflect criticism of rights abuses at home, Groves says.
---