Obama administration shifts gears on Iran sanctions
On Iran sanctions, the Obama administration shifts gears to focus less on UN sanctions and more on modifying measures before Congress.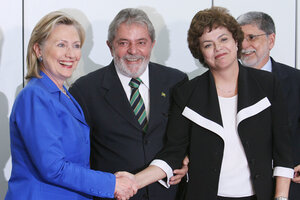 NEWSCOM
With Congress moving inexorably toward passage of new US sanctions on Iran, the Obama administration is changing its tack: In place of an earlier desire to stall passage while it sought international sanctions, the administration is now seeking to modify measures Congress is considering that could make international support for UN sanctions more remote.
The switch reflects the differences in momentum for sanctions in the two arenas the administration is working with. While Congress continues its march toward new US sanctions against Iran, the brakes are being applied internationally as more countries cast doubt on the prospects of UN sanctions.
"It's only 3 o'clock, and I've already had about 15 proposals bounced off me for more sanctions on Iran," said Kenneth Katzman, an expert in US sanctions on Iran for the Congressional Research Service. He spoke at a Tuesday afternoon discussion at the Atlantic Council in Washington on prospects for diplomacy with Tehran.
---