Hillary Clinton at UN: 'Women's progress is human progress'
Secretary of State Hillary Clinton delivered those words at the UN Friday as she marked the 15th anniversary of her speech at the World Conference on Women in Beijing.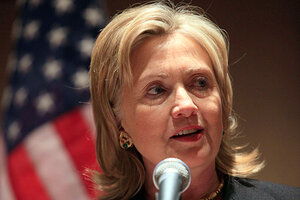 Mary Altaffer/AP
In a speech Friday at the UN in New York, Secretary of State Hillary Rodham Clinton identified equality for the world's women and girls as the central challenge that will determine the peace and progress of the 21st century.
She underscored the links between economic development, ending poverty, improving health, safeguarding the environment, and the continued enhancement of the status of women. "Women's progress is human progress, and human progress is women's progress," she said.
Those words were clearly meant to echo Secretary Clinton's own words 15 years ago when, as the US first lady, she told the World Conference on Women in Beijing: "Women's rights are human rights, and human rights are women's rights."
Clinton's speech not only marked the anniversary of her 1995 Beijing speech, but also wrapped up events for International Women's Day, which took place March 8. Those events included meetings of the United Nations' Commission on the Status of Women.
The past 15 years, Clinton said in her speech, have included some remarkable advances for women globally – including heightened attention to women's health and economic issues, particularly in developing countries. Women's participation in their country's political life and their election to national parliaments have also increased, she said.
---