Pakistan increasingly playing ball to rein in Afghanistan Taliban
Pakistan army chief Ashfaq Kayani is in Washington this week, where he will discuss his country's strides against Al Qaeda and the Afghanistan Taliban.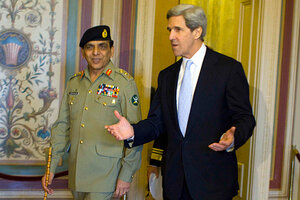 Harry Hamburg/AP
Pakistani leaders visit Washington this week, marking what American officials are billing as a relationship on the mend as the two countries' antiterrorism efforts appear increasingly aligned.
US Secretary of State Hillary Clinton is hosting discussions that include Pakistani army chief Ashfaq Kayani and other officials, spanning a range of issues. But of most interest to the US is what Pakistan is doing to fight militants inside its borders, an effort that could be a game-changer for US operations in Afghanistan.
That effort has been increasingly successful, US and Pakistani officials say. As Pakistan kills or captures militants it sees as threatening its own stability, it recognizes that it is also helping the US make strides in its war on terrorism.
"I think it is fair to say the relationship is gaining momentum," says one senior US military official.
Pakistani officials recently arrested Mullah Baradar, the operational commander of the so-called Afghanistan Taliban that targets coalition forces inside Afghanistan. That is likely the biggest prize Pakistani officials can offer to demonstrate their emerging commitment to helping the US fight Islamic extremism. In addition to Mr. Baradar, six other members of the Quetta Shurah, the leadership council of the militant group, have also been arrested, according to independent reporting by The Monitor.
---