Nuclear weapons-free world: a vision of Kennedy, Reagan, Obama
Presidents Kennedy, Reagan, and now, Obama all envisioned a world free of nuclear weapons. The US-Russian START accord, announced Friday, is a next step in that direction, experts say.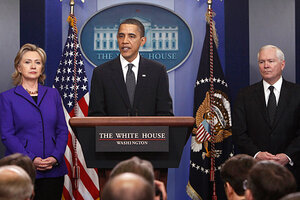 Jim Young/REUTERS
US-Russia agreement on a new treaty to reduce nuclear weapons is being hailed as President Obama's first real foreign-policy victory and a personal triumph for a leader who envisions a nuclear-weapons-free world.
But that vision stretches back at least as far as President John Kennedy, and actually came tantalizingly close to fruition under President Ronald Reagan.
Indeed, many nuclear disarmament advocates share a sense that the treaty Mr. Obama announced Friday is the first step of many toward a nuclear-free world, given the long-standing and "centrist" support behind nuclear-weapons reduction and elimination.
"This vision of a world without the Damocles sword of nuclear weapons hanging over it, as John Kennedy said, is one whose time has come," says Joseph Cirincione, president of the Ploughshares Fund, a Washington organization that supports initiatives designed to prevent the spread and use of nuclear, biological, and chemical weapons. "It's the fact that the idea of moving in this direction is one shared by conservatives and moderates as well as liberals that is giving it such strength."
START's broader importance
---